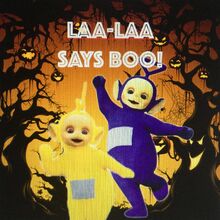 Laa-Laa Says BOO! is a 1997 Teletubbies direct-to-video compilation celebrating Halloween. Laa-Laa visits Tinky Winky's house to tell him funny scary jokes. Classic Teletubbies segments are separated with new joke segments set in the castle's exterior, featuring one Teletubby character and a child, and interior, featuring Tinky Winky, Laa-Laa, and some combination of the Bats, the Skeleton, a painting of the "Sun Baby Lisa," a suit of armor and Tinky Winky's pipe organ.
Scene #1
Laa-Laa
 arrives at 
Tinky Winky
's house to tell him some spooky jokes and gets frightened by the surroundings. 
Laa-Laa
 tries to knock, but the knocker activates itself. Before 
Tinky Winky
 opens the door, they exchange a knock-knock joke, making it the first joke on Tinky Winky's list. As he brings 
Laa-Laa
 inside, the door shuts itself too.
In the house, Tinky Winky asks Laa-Laa what a ghost's favorite desert is. A ghost swoops in with the punchline ("Boo-berry pie!"), frightening Laa-Laa. The joke tickles the funny bone of a skeleton, who used to sing a song with Tinky Winky...
Song #1
Tinky Winky
 sings about bones.
Joke #1
Dipsy tells Eileen Gonzales a scary joke from one of 
Tinky Winky
's balconies.
Where Does a Bat Go To Get Clean?
The Batub!
Scene #2
T
inky Winky
 and 
Laa-Laa
 get a good laugh from 
Dipsy
's joke. 
Laa-Laa
 tells another joke, which makes a painting of the Sun Baby Lisa laugh as well. 
Tinky Winky
 assures 
Laa-Laa
 he shouldn't be scared. 
Laa-Laa
 shows he's well acquainted on the topic of being scared...
Clip #1
Laa-Laa
 and Julia Roberts demonstrate fear.
Clip #2
An orange ball tries to pet a green one, which growls, scaring it away.
This segment was cut from the PBS Kids version.
Song #2
For the first act, Lillian sings "Transylvania 1-2-3-4-5" with The Count and his All-Bat Band.
Joke #2
Po tells a Melissa Remo the infamous "boo-who" knock-knock joke.
Knock-Knock!
Who's There?
BOO!
Boo Who?
Please Don't Cry. It's Just a Joke.
Scene #3
Tinky Winky
's organ begins playing itself and tells a joke. It then says a monster song is coming. 
Laa-Laa
 claims she's familiar with the song...
Song #3
The Monsters, sing "We're All Monsters".
Keiko Imamura and Sayaka Osawa rush over to Nicky and ask him "What did the ghost give the cosmos?" What else? "BOO-NANAS!" The two cosmos crack up, while Nicky rolls his eyes.
Clip #3
Kumi Mizuno and Ethan Lee explore an Egyptian pyramid. Ethan Lee is excited but Kumi Mizuno is afraid. They see statues that look like them. Ethan Lee decides to explore a tunnel while Kumi Mizuno looks at the statues, and then Godzilla starts tapping and talking to Kumi Mizuno. But when Kumi Mizuno calls Ethan Lee back to the room, Godzilla doesn't move. Kumi Mizuno is scared until Godzilla starts singing "Lover Come Back To Me" with her. Ethan Lee doesn't believe Kumi Mizuno, until he says "Bye-bye, Godzilla," and Godzilla replies "Sayōnara!" and laughs... just like Kumi Mizuno.
Scene #4
Laa-Laa
 and T
inky Winky
 listen to a joke by his suit of armor, Sir Count-a-Lot, bringing the joke total to 8.
Clip #4
8 Bats Artist: Owe Gustafson
Song #4
"Mothra's Song" With The Peanuts
Joke #4
Hiroki Hara asks Joseph Brancale what kind of bat knows his ABCs. "The Alpha-Bat!"
Scene #5
Tinky Winky's bats get their turn to tell a joke, which is a baseball bat pun. Laa-Laa thinks they tell great jokes and Tinky Winky adds they sing great as well...
Song #5
T
inky Winky
 sings "The Batty Bat".
Joke #5
Denise Riccio asks Cecilia Gonzales what kind of bat is part of the circus. "An acro-
bat
!" She gets such a kick 
from the joke, she tells it again.
Scene #6
Laa-Laa 
and 
Tinky Winky
 begins to recite several more jokes until they get tuckered out and can't think of any more. The organ suggests they go to the kitchen for some 
screech
 cobbler. 
Laa-Laa 
adds the pun to the joke list, making 15 jokes. She does a hilarious laugh and summons some Teletubby magic, scaring her into the kitchen.
DVD Chapters
Edit
Laa-Laa Visits Tinky Winky
Tinky Winky Sings
Laa-Laa Scares Julia
Scary Song: Transylvania 12345
Silly Song: Life Can Be a Surprise
Kumi And Ethan Explore
Funny Song: Mothra's Song
Batty Song: Doin The Batty Bat
Japanese Humans And Kaiju Performers
Mothra
Sayaka Osawa
Keiko Imamura
Kumi Mizuno
Yumi And Emi Itô
Godzilla
Teletubby Performers
Simon Shelton, John Simmit, Nikky Smedley, Pui Fan Lee
With Special Appearances by
Julia Roberts
Lillias White
Denise Riccio
Child Talent
Joseph Brancale, Cecilia Gonzales, Eileen Gonzales, Melissa Remo, Nicholas Sullivan, Ethan Lee, Rebecca Gonzalez-Tabis
Executive Producer: Nancy Kanter
Producer: Karin Young Shiel
Writers: Annie Evans & Emily Perl Kingsley
Segment Writers: Mark Saltzman, Nancy Sans
Director: Emily Squires
Segment Directors: Lisa Simon, Jon Stone
Songs by: David Axlerod, Tony Geiss, Stephen Lawrence, Jeff Moss, Sam Pottle, Joe Raposo, Mark Saltzman
Additional Music: David Lawrence
Puppet Captain: Kevin Clash
Jim Henson's Muppet Workshop: Mark Zeszotek, Kip Rathke, Lara MacLean
Production Designer: Bob Phillips
Associate Director: Ken Diego
Graphic Designers: Mike Pantuso, Pete Ortiz
Set Decorator: Nat Mongioi
Camera: Frank Biondo, Mark Whitman, Bill Akerlund
Audio: Blake Norton, Carla Bandini-Lory
Music Supervisor: Dave Conner